Marching Along into the May Election
Josh Lang and his campaign team hit the ground running in March with re-election activities getting into full swing, and really getting into the action this month!

Ballot petitions were gathered on the 12th, and Commissioner Lang had nearly 1,000 signatures to assure his place on the primary ballot May 21.

There was the Meet the Candidates Night at the Bedford Elks hosted by the Bedford Business and Professional Women where Lang had the opportunity to re-introduce himself to the audience, and share a few new key points about his campaign this year.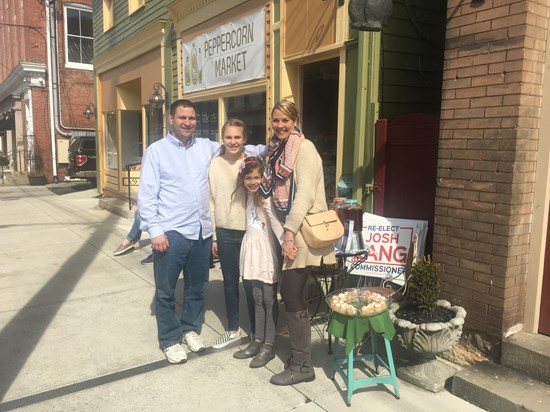 There were two Meet & Greet activities held at Peppercorn Market for community members to stop by, and pick up yard signs and campaign materials. On the March 10 event, Peppercorn Market provided cupcakes and refreshments as a celebration for Lang's birthday.

On the second event, Peppercorn Market set up all kinds of desserts, cheeses, breads and dipping sauces as treats for people to enjoy as they came out to listen to live banjo music by Mike Amato, owner of the Bedford Banjo Shop.

There was a lot of knocking on doors in neighborhoods across Bedford County, and making hundreds of personal telephone calls asking voters not only for their support in this election, but how Lang could better serve them as their county Commissioner.

There were countless meetings, and visits with groups on county matters, and conferences in Washington, DC that Lang attended, and more in Harrisburg.

And we are delighted to announce that on March 26, 2019, Lang received notification of his endorsement for Bedford County Commissioner by the American Federation of State, County, and Municipal Employees, Council 83.

On March 30, Lang attended the Bedford County Regional Education Foundation annual fundraising event for the Bedford County Campus for the Allegany College of Maryland for which he serves on the board. The event brought in $16,000 to help provide scholarships to college students we hope will study here, graduate from here, and choose to build careers in our county.

The 2019 festivities included a ventriloquist who brought Lang onstage to use in a hilarious skit, making the crowd roar with laughter at the antics.

Leah Pepple, is the Director of PA Advancement and Community Relations at Allegany College of Maryland, and she works closely with Lang on a variety of projects each year. She spoke about Lang's willingness to participate at the fundraiser while onstage, and said people really reacted well seeing him be able to put himself in that funny, awkward position in front of everyone for the sake of the mood of the event.

"Josh was really a good sport," Pepple said. She went on to say that in the time she has worked with him, Lang has assisted her with drone programs, has taken on an intern, and served as a judge for the Regional Future Business Leaders of America at her request.

Pepple said, "When a volunteer is needed, Josh is always willing to raise his hand and help students in any way possible."

Those comments are a common theme we hear across the county when we talk to people about their experiences with Lang. Their impressions and recollections first-and foremost are that he is always present, always available, and always follows through with what he says he will do.

Downtown Bedford Inc.'s former manager Tonya Grimes had the same thing to say about Lang. She said she knew he would jump in and help, and do whatever needed to be done when she asked him to help with projects. She knew she could count on him, and he'd be there.

Tom Wertz, Chief Emeritus of Shawnee Valley Company 37, came to the Meet & Greet at Peppercorn Market last Sunday. He spoke about Lang, and said he has been with him at various Republican dinners and events, and Lions Club, and "he's always around." The men have talked about how best to help the First Responders, potential needs and possible grant funding that may be available to help.

However important and necessary these activities have been, none had the significance and value to Lang as the two military veteran events that took place on March 28 and 29. Whenever veterans affairs are involved, Lang takes a step back from the political arena, and moves into a quiet personal space, and then into a circle of brotherhood with his fellow veterans around him—regardless of which branch they served, which years or conflict, or region of the world.

It is then he is able to come back to public life to help enact change for all veterans, work with groups to create discount programs, special services, resources and acknowledgment of veterans in our area.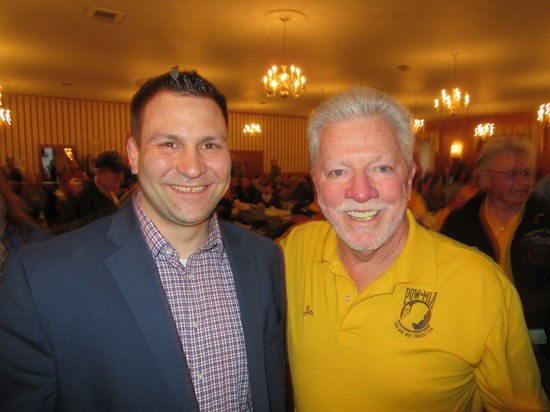 The Thumbprint Project for Vietnam veterans was held at the Bedford Elks and hundreds of people gathered there—standing room only—as veterans pressed their thumbprint into a clay statue carved by Wayne Hyde. The statue will later be cast in bronze, and be erected in the downtown square—a replica of a fallen hero—Robert Hartsock, a Bedford County native, who died in 1969, saving others in battle.
The day after the thumbprint event, the veterans met in the Veterans Grove where the statue will finally be set when it's complete. The day was the annual Vietnam Veterans "Welcome Home" Day to make up for the unwelcome way so many were greeted when they returned from the war decades ago.
Lang spoke to the veterans and the crowd gathered there, through the chilly rain that was falling across the memorial plaques carved with all the names of those who gave their lives in service to their country, and those who served who were still standing to tell their stories. Lang stood among them—a voice for them, and a voice for those he serves as our Bedford County Commissioner every day.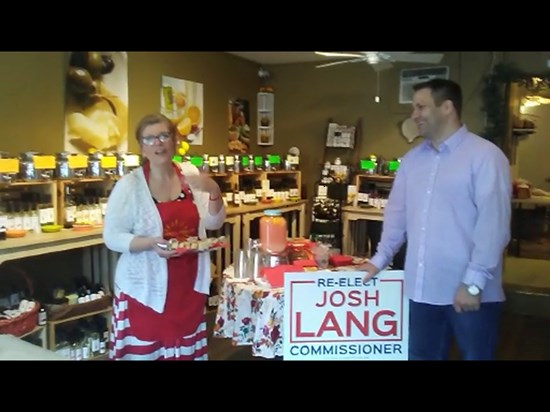 Looking ahead to April, (and aren't we all—to Spring getting here once and for all?), yard signs are available for you to show your support for Lang's campaign by stopping at Peppercorn Market at 111 S. Juliana St. in downtown Bedford, or by contacting Lang or a member of his team at www.joshlang.net.
And our fundraiser trivia game party night is April 13 at the Bedford American Legion. Tickets are only $35. Doors open at 5:30 pm with dinner at 6 pm. Live music by Tom Fix of Happy Hour! There are so many great prizes being donated, and baskets full of beautiful stuff to win—no other tickets needed to win! Expect an interactive, everybody-is-included kind of evening! Just join in and have fun!
Campaign contributions and donations are always welcome to cover re-election expenses so please visit Lang's website at www.joshlang.net for more details, or contact Josh Lang at (814) 201-1693.